AMAZINGLY ROBUST
ASTOUNDINGLY AFFORDABLE
Easy To Use | Feature Rich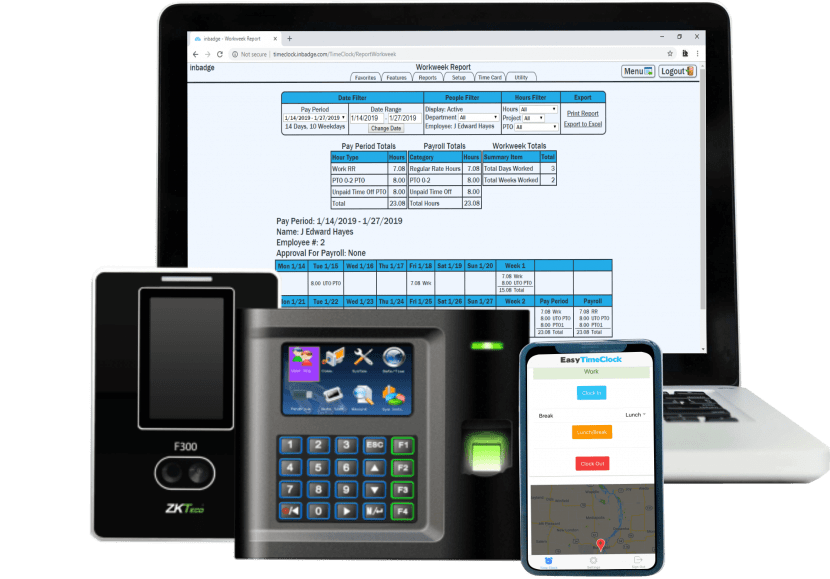 *Click on each line for more information
Automatically accrue and track time off to keep balance of employee paid time off.
Eliminates paper trail for all employee time off requests and supervisor approvals.
Track time for paid time offs without balances. (Bereavement, Jury Duty, Unpaid Time Off, etc.)
No matter how your payroll provider needs to the see the file, we can accommodate.
XML, CSV, TXT, and more.
ADP Workforce
Agris
Alliance
Benefit Mall
Business Online Payroll
Certified Payroll
Checkmate
CitiBank
CompuPay
ETC Payroll*
Evolution
Flex Pay
Huntington Bank
Intuit QuickBooks
Intuit QuickBooks Online Plus
Mangrove
Oasis
Ovation
Paychex Core/Online/Preview
Paychoice
Paycor
Paymatrix
Payroll 1
Payroll Maxx
PaySuite PC
Paywrite
Piper Payroll
Pensoft
Red Wing Software Centerpoint
RunPayroll
Sage/Peachtree
Software Unlimited
Southeast Personnel
Summit
SunTrust
SurePayroll
The Payroll Company
Ultipro
Valiant
V.I. Pay
Webpay
Wells Fargo
+ More added every day.
Contact us if you don't see your provider.
Are you looking for a new payroll provider? We have several partners that we personally recommend for their outstanding service and support.
| Low on Price - High on Value |
Online Time Clock
Low Monthly Pricing
$
1
Employee Monthly
Implementation
White Glove Service
$249
$
150
One Time
Full implementation process

Relax, we've got you covered
Payroll Integration Partners
A
ADP Workforce
Agris
Alliance
B
Benefit Mall
Business Online Payroll
C
Certified Payroll
Checkmate
CitiBank
CompuPay
E
F
H
I
Intuit QuickBooks
Intuit QuickBooks Online Plus
M
O
P
Paychex Core/Online/Preview
Paychoice
Paycor
Paymatrix
Payroll 1
Payroll Maxx
PaySuite PC
Paywrite
Piper Payroll
Pensoft
R
Red Wing Software Centerpoint
RunPayroll
S
Sage/Peachtree
Software Unlimited
Southeast Personnel
Summit
SunTrust
SurePayroll
T
U
V
W
inbadge, llc has partnered with Easy Time Clock (ETC) to offer time clock services and hardware.
By creating an account you acknowledge that you have read, understand, and agree to ETC Terms and Conditions
You won't find better for less