Description
iSolved (Infinisource) Barcode Swipe Cards
Our cards work with all iSolved HCM and TimeForce wall mounted barcode readers
At inbadge, llc we provide barcode swipe cards for Time Attendance software. Not only do we provide high quality time card badges, we also provide an ordering process that is unparalled in the Time Labor Management (TLM) industry.
With us, you are able to quickly order swipe cards that are an exact match your existing barcode wall mounted time clock.
You no longer have to call or email your Customer Service Representative or Support Rep to place an order, fill out paperwork, give you address, and wait for an invoice for payment.
At inbadge, we make this process incredibly easy.  Simply add the number of cards desired to your cart and checkout.
Our cards will ship in most situations the same day.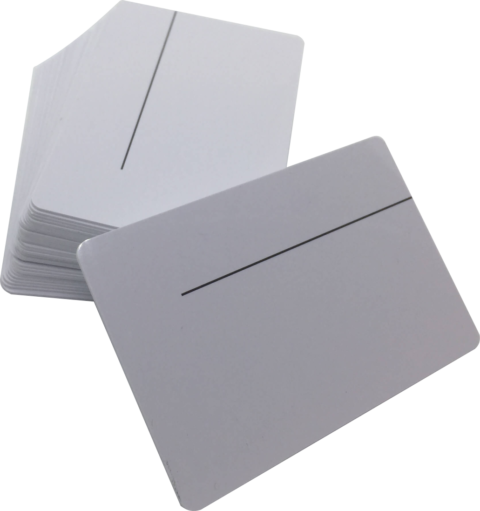 iSolved / TimeForce Compatible Clocks
Our cards work with the following clock readers:
IQ200 Barcode Reader

IQ550 Barcode Reader

IQ1050 Barcode Reader

NXG G2 with Barcode Reader
It has come to our attention that some iSolved clocks barcode readers are installed backwards.
Some of our customers have reported that iSolved card readers are installed backwards. In order to use our swipe cards, some clients have reversed the badge id when assigning to employees in the system.
For Example:
If your badge id is: 9428
Within iSolved, assign the badge as: 8249
* Please note that we have not heard this from all of our clients, so please assign the badge both directions to ensure compatibility with your specific device.
iSolved / TimeForce Login Pages
Unsure if you use either of inifinisource's time clock products? (iSolved HCM or TimeForce)
Take a look at the login page images below.
Note: Your login page may display a different logo and text depending on your time clock or payroll vendor.
qQest GoTimeForce Login Page
Please note: in 2012 qQest was acquired by Infinisource and renamed to TimeForce
Additional inbadge Card Images
100% Money Back Guarantee
Allow any team member to place orders
Durable 4 digit barcode id
Manufacturer pricing without time clock vendor markup.
Cards ship next business day
Free shipping on orders over $25
Standard credit card sized (CR80). 
Dimensions: 3.370 x 2.125 inches x 30 mil thickness
About - Infinisource / iSolved
mostly pertaining to their Time Attendance products
1986
Infinisource Benefits Services is founded
Infinisource Benefits Services is founded in Coldwater, Michigan with the focus of providing employee benefits services to small and medium sized organizations.  A few of their products include ACA Print & File Compliance,  POP Plans, Cobra, FSA, HRA, HSA, Transit & Parking, and more. 
2012
Qqest Purchase
Infinisource purchases Qqest (pronounced Q-Quest).  The purchase expands Infinisource product offering with the Qqest "TimeForce" time attendance software.
2013
iSolved HCM
The "iSolved by Infinisource" HCM platform is introduced.  An all in one Software as a Service (SaaS) product integrating several key payroll and HR functionalities.  Included in the product are Payroll, HR, Time Attendance, Scheduling, Benefits Administration, Employee Onboarding, Wall Mounted Time Clocks, and more.  At this time 'TimeForce' and 'iSolved HCM' are two separate and distinct time clock products.
2016
Infinisource and iSolved Companies Split
iSolved and Infinisource split entities and iSolved renames as iSolved HCM.  iSolved HCM main focus will continue to evolve its HCM capabilities while Infinisource will continue focusing on Benefits Administration services.
Time Clock Features/Functionality
Likely iSolved greatest benefit is the all-in-one platform which combines Payroll, HR, Taxes, and Time Attendance under one login with no need to for interface or importing/exporting data between multiple databases.
A few of their key features include:
 Payroll

Tax Management
Employee access to paystubs

Online Time Cards

Track employee punches and hours through a web-browser

Leave Management

Accrual Balance Tracking (PTO, Vacation, Sick, etc.)
Holidays
Leave Requests

Scheduling

Tracking Unscheduled Absences, Late Arrivals, and Early Departures.

Job Costing
Smartphone Mobile App
Wall Mounted Swipe Clocks

Barcode Readers – This is where we come in and save you money 🙂
Biometric Readers
Touch Screen
PIN Entry

Human Resources (HR)

Recruiting
Onboarding
Document Management
Performance & Reviews
Benefits Enrollment
Training
Expense Management
Not convinced?
We'll ship you a card for free!
Astounding Benefits - Amazing Price
Have confidence that our durable cards will work with every swipe to ensure complete accuracy for all of your employee punches.
All of our badges come pre-printed and have been professionally designed, tested, and verified to work with iSolved HCM and qQest TimeForce barcode time clock readers.
We stand 100% behind our products.
If you are unhappy with any purchase, please let us know and we will do everything we can to make it right.
Send us your thoughts on this time clock product.
We'll share results here. As a community you can find and share your thoughts to help  find the best solution for your needs.
Love or Hate this product?
Let your fellow professionals know.
We'll post all reviews on this page.