This promotion is now closed.
Thank you to everyone who participated!
Winner will be contacted through email or phone.
If you did not win, no worries!  Keep watching for future promotions and give aways!
Promotion Overview
It's getting hot outside.  But don't worry, with our latest promotion you don't need to break a sweat.  Click the link below to enter a drawing for 30 free badges.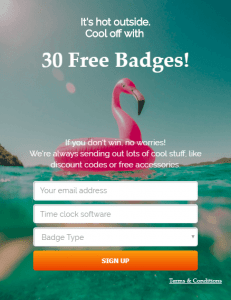 Terms & Conditions
Entry Requirements and Dates
Promotion will run from 7/4/2018 through 10/1/2018.
As part of the promotion, users will be required to enter the time clock software, badge type, and clock model currently in use.  Entries for in-house or unknown time clock software will not be eligible as we will not be able to provide badges that work with these systems.  Entries will be accepted that include white-labeled or re-branded software names.
When signing up for this promotion, users email will be added to our newsletter.
Limitations and other rules
Entries received prior to 7/4/2018 or after 10/1/2018 will be ineligible to participate in the drawing.
If the badge type requested is unavailable at time of drawing, the winner will be asked if they would prefer a different badge or accessory currently in inventory.  Winner will also have the option of receiving a promotional code valued at $45.00 which can be during the checkout process at a later date.
If winner is unable to be contacted within 30 days of drawing, the prize will become ineligible for redemption.  At this time, inbadge will have the option of exercising a second random draw to determine a new winner.
Any questions on the requirements or limitations of this drawing can be sent to support@inbadge.com.